Coach, Explorer and Toolsmith walk into... - Richard Bradshaw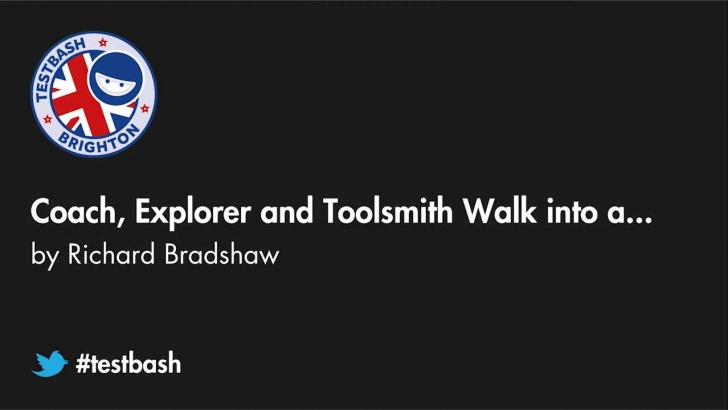 Description:
These are probably the three words I use the most when talking to people about what I do on projects. Having spent some time reflecting on my recent career, and observing the testing community, I now feel these are the future roles of testers.
In this talk I intend to explore these roles with you, using my own experience of wearing each hat, but also a look at trends in the testing job space. We'll also explore what roles will merge into these, what people can do to fit each hat. We'll conclude by exploring the current trends in IT and why I feel these roles are the future.
Do remember though, this is just my prediction, but at the same time, it's one I've been living for a few years.
I hope attendees of this talk with leave with the following:
An appreciate that things are changing, but also that it's a good thing. But nothing is lost, it's all carried, we'll use it to grow into new roles.
Feel inspired to go and explore and learn from other areas outside of testing.
Feel motivated to push that little further, extending your current responsibilities in the workplace, energised to make a bigger impact.
A realisation that our roles around software testing, exceed far beyond software.
Those who are automation focused, discover new avenues to use the vast skills they've acquired in that space, but which are hugely under utilised on test/check frameworks.
A huge smile on their faces.

Join the discussion about TestBash Brighton over at The Club